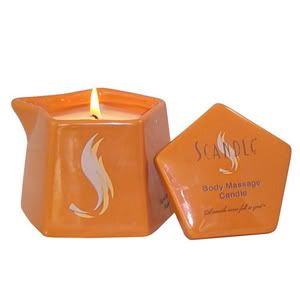 Today my house has a wonderful aroma flowing through it that can only be described as fruit in the air. It is the
Scandle Body Massage Candle
in Chocolate Dipped Strawberries. After burning for approximately an hour and a half, the wax was completely melted and I was ready to try using the oil as a hand treatment. I must admit that the thought of pouring hot liquid into my hand went against everything I had been taught as a child ("Don't touch - it's hot!"). But I was very surprised to find that it was not too hot to hurt in any way and yet warm enough to feel the moisturizer immediately working. I covered both hands completely and continued to rub it all in for at least 2 minutes. I used a little too much for just my hands and had to rub some of it off. It was very soothing and my hands still feel soft even after being washed later. My only disappointment was the strong smell of the candle. It was a little too overwhelming once I had it on me. It wasn't bad being just in the air because it flowed throughout the house. But once I had it on my hands and it stayed with me everywhere I went, I quickly realized just how strong it was. However, for a soothing and relaxing at home spa treatment, I truly enjoyed this candle. Even better, it's good for my skin and the environment!
Thanks for this opportunity to review the
Scandle Candle
! I had fun with it!
WIN IT!
Play Valentine's Blog Party Game -
Serenade with Kisses
to win a Siamese Slanket of your own. Open USA Only! Ends February 14th. Click
here
to play to win.