UPDATE: THIS GIVEAWAY IS NOW CLOSED! Winner announced soon!

The day these babies arrived in the mail, my little sunshine (as I like to call him) excitedly claimed them as his own. Well, that was okay since they are meant for ages 3-7 and he is the only one in the house that fits into that category. He instantly LOVED them and wanted to wear them practically every time he ventured outside. I should mention that when we received them the weather had not quite turned cold, as we had some t-shirt weather even into November which is quite unusual for Ontario, Canada! I indulged him and let him wear them out a few times even though the weather didn't call for such "protection". It made my heart smile to see such a simple belonging bring such joy to my three year old.
Eventually the temperture did dive and the snow began to blow! Winter is a much celebrated season in our home; not so much by me but more by the rest of my family. These boys of mine have a great love for winter activities and the Ski Banz have fit perfectly into that scene. My husband has taken the boys out on a few occassions now to go for a spin on the snowmoblie and to go sledding. The
Ski Banz
have definitely kept our young ones eyes protected and prevented flying snow (and trust me, the snow did fly!) from getting in his eyes. This allowed him to enjoy some family time together that otherwise probably would have ended with a little boy being upset by all the cold wet snow in his face.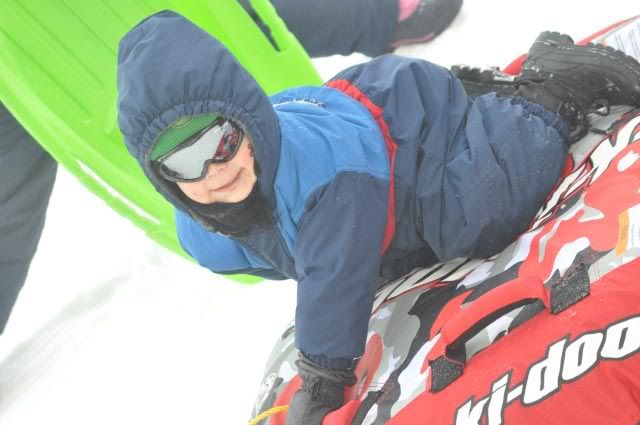 If your family enjoys winter activites, I would definitely recommend Ski Banz for your young ones. I believe that they have recently introduced a little bigger size for ages 4-10 and the price is $35 U.S. This seems a bit pricey to me but to be honest, I have not compared them to other ski goggles for children. I do know that they seem to be well made, which reminds me of the old adage "you get what you pay for". They also have what looks like really great Summer gear, so there is still hope for those of you who are missing out on all the snow and cold weather that Winter has to offer. You can check out their site
here
. Click on the flag that represents your country and start shopping!
Reviewed by DeAnna
Canadian Mommy Reviewer



Simply tell us your favorite
feature of the Ski Banz
. Be sure to leave your name and email address for us to be able to contact you are the winner. Click
here
to learn how to earn extra entries!
Open to USA & Canada
Ends 1/8